Kids/Children's Bikes
Well hello! You are at the right place to get information about your kiddo's bike. Of course, we are not aware of kids or children that do not like cycling. Therefore we spend a lot of time searching for quality bicycles for children. The children's bikes we bring range from balance bikes for toddlers to mountain bikes for kids/children under 13 years of age. Kids 14 years of age are normally tall enough to move into youth and adult bike classifications. This is normally 24″ wheel bikes and bigger.
For smaller kids from toddlers upwards, normally there are not many companies making specific frame sizes, however, the manufacturers tend to combine wheel size and frame size design to fit kids/children of a certain height.
The big question for most parents though, is which bike size should I get for my kid/child?

The answer is very simple… it starts with a question of how tall is your kid? Based on their height, you can look up this chart that we put up as a general reference guide…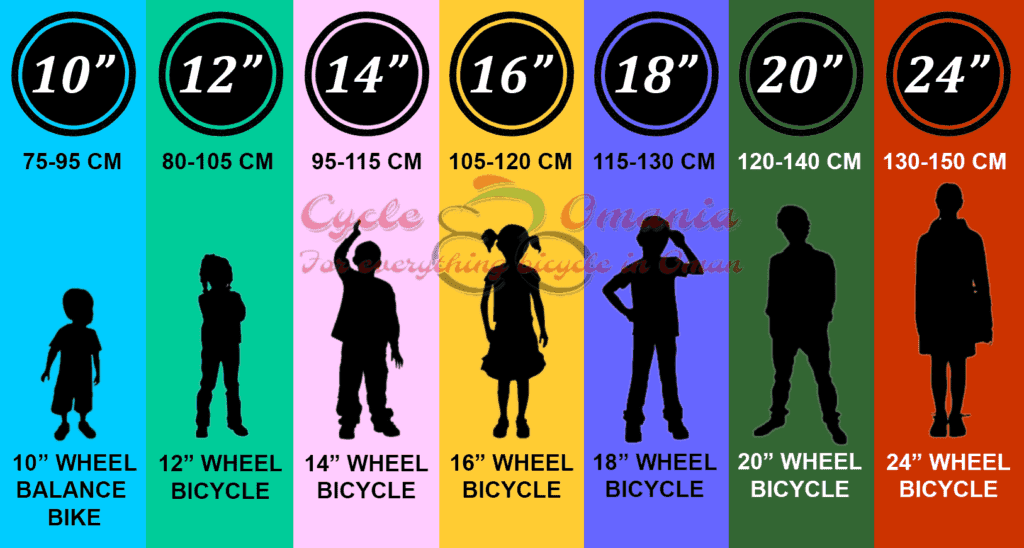 however, do not go 100% by this chart, because manufacturer's of bicycles some times design the bicycles in geometries that suggest a different fit. Therefore, in such cases, we also put the recommended height of riders for different sizes for these product descriptions.
Below are some of kids/children's bikes that we sell. Alternatively you can just type "Kids" on any page that displays "categories" search bar, and all kids bikes will show.
This link (http://cycleomania.com/product-category/bicycles/kids/) however, will pull all kids bikes (more than listed here).