BIKE TO BE DROPPED

BY 10:15 am

on the day of service.
Or BEFORE 9:00 pm

, the day BEFORE service.
THIS SERVICE COST STARTS AT OMR 15.000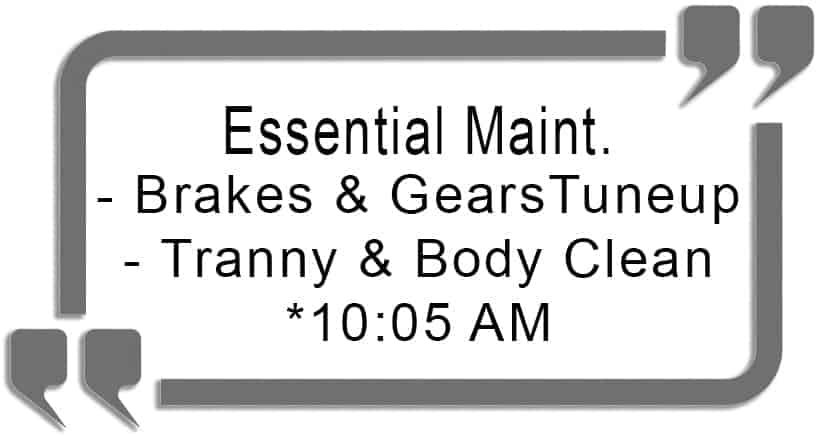 * PLEASE DROP THE BIKE ON TIME!
THE SERVICE IS FOR 1 BIKE ONLY
EMOVE "ALL" REMOVABLE ACCESSORIES THAT ARE ON THE BIKE, WE WILL NOT TAKE RESPONSIBILITY FOR LOST OR MALFUNCTIONING ACCESSORIES
ARRIVE BY 10:20 AM ON THE DAY OF YOUR APPOINTMENT OR BEFORE 9:30 PM THE EVENING BEFORE YOUR APPOINTMENT.
WHEN YOU ARRIVE, PLEASE BRING YOUR BIKE INTO THE SHOWROOM STRAIGHT AWAY. WE ARE EXPECTING YOU!
THERE IS NO ELECTRONIC DEVICE FOR US TO PLUG ON YOUR CYCLE TO KNOW WHAT IS WRONG… SO IF YOU ARE AWARE OF SOME IRREGULAR FUNCTIONALITY OR YOU HAVE CONCERNS, PLEASE TELL US AT THE TIME YOU DROP THE BIKE, NOT WHEN YOU ARE DRIVING TO PICK IT UP, OR AT THE PICK-UP TIME.
ANY BIKE LEFT TO SLEEP OVER PAST ITS PICK-UP DAY AND TIME WILL INCUR A 3.000 RIALS STORAGE FEE FOR EVERY NIGHT IT STAYS AT THE SHOP.
WHAT IS DONE DURING ESSENTIAL MAINTENANCE?
Full bike frame wash and degrease
Chain health check (ready to change?)
The shifter and brake housing health check
The shifter and brake cable health check
The chain on the frame degrease (non-removable chains) or Chain ultrasonic degrease (for removable chains)
Chain re-lube
Chainrings, freewheel/cassette degrease
Rear Derailleur cleaning (and re-greasing)
Rear Derailleur cage de-grease and re-lube
Front Derailleur cleaning (and re-greasing)
Wheel (tires, rim, spokes, and hub) wash and clean.
Disc brake cleaning (if applicable)
Brake adjustments
Gear tuning/adjustments
Inflate tyres to the recommended PSI bracket
Frame polish application