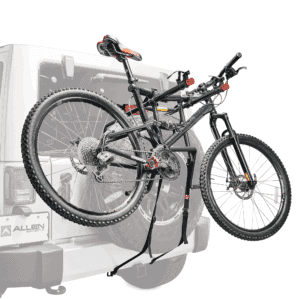 Allen Sports USA – DELUXE 2 BIKE SPARE TIRE RACK
Allen Sports Deluxe 2 Bike Spare Tire Rack
SPECIFICATION:
The patented design carries bikes up high, away from the road and hot exhaust.
15" long carry arms easily accommodate two bicycles (up to 70 lbs ~ 31.75 kg).
Narrow width on carrying arms will work with a wide range of bicycle styles and frame sizes.
Patented individual tie-down cradles secure and protect bicycles.
Extra-wide bottom foot supports weight on the rear tire, not on the rim.
Fits nearly all externally mounted spare tires, including those with over the tire third brake lights.
Minor assembly required. Installs in seconds.
Click on this link to download instructional/set up manual
1 in stock
You may also like…
Accessories

Allen Sports USA – 900B TENSION/ ADAPTER BAR

The Allen Sports adaptor bar adds a top tube to your bicycle frame so that it can be installed properly on a rear-mounted bicycle carrier.

Enables bicycle transport by adding top tube to suspension, step-through, BMX, and women's style bicycles
Internal spring that maintains constant tension to keep your bike secure.
Fits bikes that have a distance of 16 inches to 27 inches between the seat post and the stem
Easy installation is easy with no assembly required.
Plastic-coated hooks are there to protect the finish of your bike.
35 LB weight capacity.

SPECIFICATIONS:
Enables bicycle transport by adding a top tube to suspension, step-through, BMX, and women's style bicycles.
Internal spring maintains constant tension to securely transport bicycle.
Plastic coated hooks protect your bicycle's finish.
Fits bicycles with between 18″ and 27″ between headset and seat post.

For more information, images and videos from the manufacturer – click HERE